Written by Beth at Sense & Sensibilities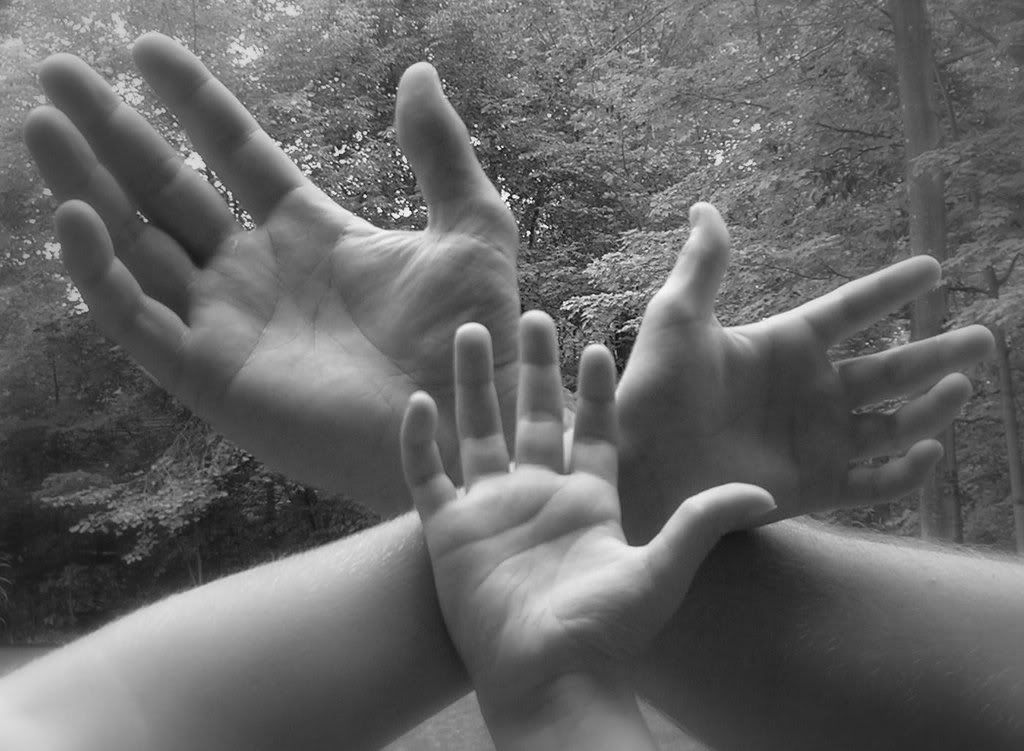 It starts with a finger, that little tiny fist clenched around my finger, my hand in his. It's instinctual, I'm sure – a sweet reminder – an "I am here." A contradiction to an idea I can't even wrap my mind around. This beautiful creature is entirely in my hands, a part of me forever.
A chubby fist, in his mouth one minute and grabbing my hair the next, carefully and thoughtfully attempts to manipulate the Cheerio on his tray. Like a claw in an arcade game, the fingers slowly close around the cereal and then raise … success! Today it is cereal; tomorrow's quest may be a bug in the yard.
The steps are hesitant but eager, a little hand holding tightly to mine for reassurance. First two hands, then one, then he's on his own. A few steps, then down, then off we go again. And again. Freedom for him brings worries for me. Please, hold my hand a little longer.
One finger in his mouth to calm his nerves is quickly replaced by a happy wave. A "bye mom!" and his hand is holding the teacher's as he starts a life without me there by his side. Excited hands quickly pull art projects from his bag as he relates his day to me, stories of new friends, new experiences and the occasional new hurt.
My hand firmly rests upon his as he clutches the handlebars. "Don't let go," he says. Never, I think. Pedal, pedal, pedal … and I let go.
"Slide! Slide!" the base coach shouts. A cloud of dust, then "safe!" The mitt comes off as his sweaty hand reaches for a drink on the bench. Thinking he is oblivious to my presence, I continue to cheer his team. A quick glance my way, a wink, a wave.
After a hastily muttered goodbye, he shuts the car door behind him. His saunter up the school steps is confident and easy. The girl waits for him inside, flips her hair over her shoulder with one hand, and slips her other hand into his.
The car keys jingle as he pulls them off the hook. One hand reaches for his wallet, the other grabs a Pepsi, and the door closes behind him. I smile as the door opens once again only to show his crooked grin, a wink and a wave – "bye mom."
He takes her hand softly as she reaches the altar. To have and to hold …
"Isn't she beautiful mom?" His hands look so big holding that tiny bundle, wrapped snugly in a blanket. As he gently strokes her face, a little fist grabs his finger and he smiles. Just as he has had my heart all of these years, she now has his – forever in his hands.
Beth is the author of Sense & Sensibilities, where she relates stories of her life with a Sensible husband, two not-so-Sensible boys, hormones and stalkers.