The man in the picture is my husband, on our wedding day.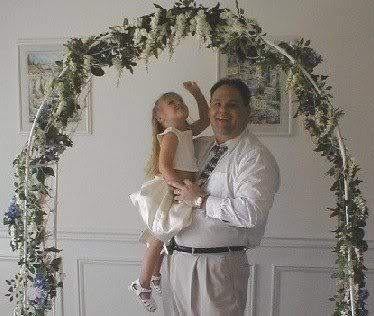 The golden-haired child in his arms is our daughter.
She is a self-proclaimed daddy's girl, and always has been.
They enjoy playing games together, going for rides in his car, and whispering secrets I pretend not to hear.
They share a bond I sometimes envy, and their ease together is so amazing and natural.
You'd never know he wasn't there, not during her conception, or for her delivery. She was the child of a previous relationship.
He didn't come into her life until she was 6 weeks old, but has been there ever since.
We got married when she was 3, and he filed to adopt her immediately afterwards.
There are good daddies and bad daddies, but she got a different kind when he came along.
He is the most special kind of daddy- the kind who didn't have to be.