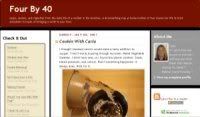 The blog: Four by 40
The reviewer: Meg from Simply Nutmeg

We took our clan to see Disney Pixar's Ratatouille this week, and I was particularly drawn to the character of the critic. Interestingly enough, he was named Ego. When you are a blogger, it's hard to review bloggers without allowing a little ego to get in the way. This week it was particularly difficult, as I'm reviewing Carla at Four by 40, a forty something woman with four kids who loves a boy named Nathan. Ringing any bells? You might say she had me at hello.
First Impressions: The very first thing that caught my attention as I scrolled down the landing page was that the author writes short posts. I'm a big fan of short posts with punch and strive for them myself. Thomas Jefferson said brilliantly, "The most valuable of all talents is that of never using two words where one will do." Jefferson would have liked Carla, as she cuts right to the chase.
Design: The second thing that caught my attention about the site was that the theme was broken. The blog is basically a three column design with left and right sidebars, but the right sidebar does not appear until you page way down. When you click on Older Posts, the problem is corrected. My advice here is to check the right sidebar code for a missing or broken pathway. Cut and paste the present code into notepad before messing around with it though!
Glitch aside, the design did not stop me in my tracks. For a family blog I found the design somewhat cool and impersonal. The sidebars were very busy, but I rarely focus on sidebars when I read blogs and am used to tuning out the clutter. The content, nonetheless, was extremely accessible and clean.
At the top of the left sidebar is a section called "Check it Out" where Carla kindly has included links to posts from other blogs. I spent quite a bit of time exploring her list and will say, when choosing fine writing, Carla is spot-on.
Posting frequency: Carla deserves a blue ribbon here, as she posts just about every day and sometimes twice a day. She has written over 600 posts, and surely such dedication is appreciated by her readership.
Content: Carla clearly has a good sense of humor. Although sometimes the writing is awkward, most posts are succinctly written and have a fun, humorous slant, like OK Then and You Know What "They" Say. I did not find a great deal of variety or deep insight in the content. Carla has carved out her niche and sticks fairly close to it: cute, endearing, tidbits of her life with her children. Considering one of the highest viewed blogs in the blogosphere is a site devoted to cute pictures of kittens and puppies, Carla may very well have a brilliant thing going here.
My biggest complaint with this blog is that it is desperately in need of images. Aside from a few pictures of inanimate objects and one somewhat disturbing picture of Carla (I can do that with my neck too!), there are very few images or photos. I totally respect the choice to keep pictures of one's children off the internet, but I'm not sure that is why the pictures are missing because I did see Nathan and Timmers on a bike! I, for one, would love to see more pictures of the Streams in action. It would add the warmth of human touch that I found missing in the design.
Best and Worst:
Best - What I liked best about this blog was Carla's outlook on life which is evident as you read through her archives. Life is sweet at the Stream's and Carla is clearly a warm and giving mother. We have a great deal in common (did I just try to say I'm warm and giving?) and would most likely be fast friends if we lived in the same town.
Worst - I want to see those chillers! I also could do without words like 'chillers.'
Bloggroll-worthy? Would I return to this blog? How could I not when we have so much in common? I also like to visit blogs that I know are updated frequently. It's the most important thing a blogger can do to be successful, aside from writing well. I'm also drawn to short posts. Sometimes I click on a blog in my blogroll, see that I will need to page down, and down, and down, and click right off. I would return to Four by 40 knowing full well I could squeeze in the read.
I think Carla has accomplished what she sets out to do in her tag line - to bring a smile on your face by sharing brief anecdotes of a mother in the trenches. The blog may have its greatest appeal to family and friends of the Streams, but it also appealed to this forty-something mother of four who found much to be familiar in Carla's quips, quotes, and vignettes.