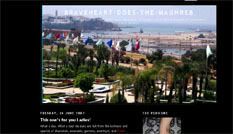 Is Sixty the New Forty?

Written by Lady MacLeod from Braveheart does the Maghreb
When I read this headline in the New York Times this week, my immediate reaction was to sit up, raise both my arms into the air and shout, "Yes!". I have been thinking it over however and I am put in mind of what Gloria Steinem said when she was told, "You don't look thirty."
She replied, "This is what thirty looks like now." Perhaps this is what sixty looks like now. With a new emphasis on exercise and eating right more people are remaining very active for much longer. Sixty is not an outrageous age to begin a new career, a new romance, take up a sport, or move to a foreign country. We see actors like Bruce Willis (50's) and Harrison Ford (60's) star in action movies, and doing it well. Women like Catherine Deneuve (60's) still setting fire to the big screen, give us with a smaller stage, ideas.

I am on the close side of sixty and lie about it to no one. In the past year I moved to a foreign country in which I do not speak either of the languages, and very few people speak English. I have begun a new career, and I have a romantic life as well.

Being the exception to the rule is not new to me, but in this case I don't think it applies. My daughter's grandmother is 75 years old and runs rings around men and women half her age. She and her husband who is the same age are presently in the Bering Sea in their sixty-four foot boat for four months – quite alone and very much capable of the physical and mental agility required for such a voyage.

The cultural permission and even encouragement, to get out and do more challenging activities as we age is contributing to a generation that is going to the barn much later than generations before, and liking it. We feel we still have much to contribute to the world at large and our own lives in particular.

One observes climbers going up Everest that are sixty and beyond, marathon runners are getting older by decades, and even baseball legends are remaining on the field long after their predecessors had gone. I think this is a trend that will continue. Who knows with the advances in medicine and research how long the life span can be extended.

This generation is also more interested in the development of a true spiritual life, not to be confused with a religious life, than their parents. There is no longer a stigma associated with meditation, yoga, and exercise that also centers the spirit such as Tai Chi.

Tales of study into the creation of human clones, growing new organs with stem cells, and the old standby of plastic surgery lend credence to the hopes of active and attractive centenarians. What was once science fiction may become the scientific truths of the near future.

I think in this day of longer and healthier lifespan we can ask ourselves the same questions we did at twenty. What do I want from this life? Who do I want to be? Do I want to coast along or have adventures, take some chances? It is easier this time 'round I should think as we are not now encumbered with the responsibilities of parenting a young child, or starting a new career, or meeting our parents expectations. Take that trip you "always wanted to". Learn to skydive. Flirt with a stranger. Close your eyes and point to a place on the map and then head out.

I think this is what sixty looks like and it looks damn good from here.

Lady Macleod at Braveheart does the Maghreb.


The daily tales of a western woman living in North Africa with the occasional political rant. Posting recently on heat, shopping, emergency medical care, and how to dress for a Moroccan wedding.