Written by Lori from Gal-lori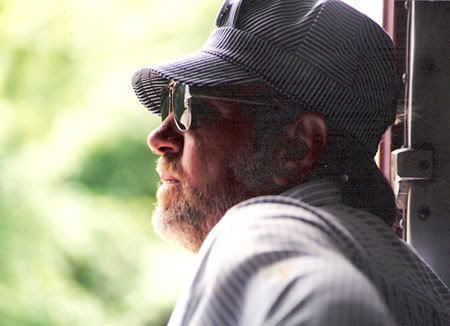 You know the old saying, 'a picture paints a thousand words' and while I usually like my writings to you all to be funny and entertaining, today, with this picture, I must stray from my norm.
My Dad.
Can you see it? Can you feel it? Can you just tell the kind of guy he is? Take a moment before I fill you in to see if you can guess.
No, don't read on yet. Really. Don't scroll down yet. Look at the picture and see if you can tell what is under that hat and behind those glasses. C'mon, it'll be fun. See how good you are by judging a book by its cover…or a man by his picture.
The strong silent type
No bullshit
Tough love
Tell-it-like-it-is-you-always-know-where-you-stand.
That's Chuck.
Even his name says that. Chuck. Say it out loud and you'll know what I mean.
The guy everyone turns to.
The one we all know we can depend on.
The one that has seen things that we could only imagine, but don't dare to try.
The guy that knows right from wrong.
Chuck.
The guy that has a faith that he never talks about but you know it's there. Strong.
The guy that loves country music.
The guy that hunts and fishes but feeds the ducks and squirrels and swans and orioles and finches, and, and, and…
The guy that had a photo album of his best friend, his dog.
But something happens to those strong silent tough guys when they get older. When they have grandchildren. They become 'Papa Chuck' and words come out of their mouths that you hardly ever imagined.
Babycakes.
Yes, Chuck says Babycakes now, and when you ask my three year old daughter, 'What does Papa Chuck call you?' She proudly, but sheepishly will tell you, 'Babycakes.'
He's always been that way though, with words like Babycakes inside.
Family man.
Loyal friend.
A great husband, father, grandfather, son, brother, uncle and cousin.
He's like a whole range of bears all rolled into one. The great grizzly bear on the outside, fierce and protective and teddy bear on the inside, loving and caring beyond belief. I've even heard him called polar bear once because of how cold he used to keep the house.
Chuck.
That's my Dad.