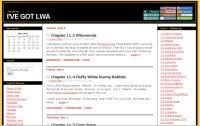 The Blog: I've Got LWA
The Reviewer: In The Trenches of Mommyhood

When Heather e-mailed me in early July with the blog I would be reviewing, I was psyched—my first TopBlogMag review! I immediately clicked on the site, full of optimism and ready to get started.
And then…gulp…I felt like I was in way over my head. I confess, I mainly read "mommy blogs", and I've Got LWA is definitely no such thing.
First Impression: My first impression was definitely confusion. First of all, I'm not quite sure why the author would even submit this blog for review in
the first place, as it is a very personal account of her past. So who am I (or her readers in general) to judge?
Design: The blog entries are laid out in Parts, and then Chapters (much like a book). Each entry is listed on the right hand side, making it easy and convenient for the reader to see the author's work thus far. However, it would be nice if there were some sort of summary as to the blog's content. And there is no author profile for the reader
to feel any connection with the author.
Content: The title "I've Got LWA" certainly gives no indication of the content. What the heck is LWA? But upon further review, the blog's content can best be summed up in the author's entry "Introduction". Needless to say, this blog is definitely a heavy read.
Part I of the blog is titled "Ignition"—dealing with an unacceptable illness (candida) and the start of the author's healing journey.
Part II is titled "Shifting Up", which the author describes as her "true opening to infinity."
Part II is "Apocatastasis" (huh?).
As a lifelong member of the Grammar Police, I must mention that I am impressed with the grammar, editing and use of REALLY BIG WORDS (see Apocatastasis above) on this blog. It's nice to read a blog without typos and grammatical errors, even if I really don't "get" the actual content (and *ahem* have to use a dictionary while reading).
Best and Worst:
Best: The simple and clean and easy to read layout.
Worst: Although the chapters are listed, each entry sometimes links to a future entry. For example, if you're reading Chapter 1.2, there are links within that particular Chapter to Chapters 7.3, 5.4 and 5.1. This makes it hard to keep the continuity flowing, and also makes it very confusing for the reader.
Blogroll-worthy? Sorry, this blog just wasn't for me.
Rating Out of 10: